Welcome to the Sears Motorbuggy Serial Number Page
---
Well, I suspect this page will generate some conversation, at least I hope it does. I hope it also is able, over time, to clarify some of the misnomers surrounding the Sears and the age of some cars. I think the Sears has to be one of the most mis-dated cars ever built. The styling, when new, was already out of date by at least 10 years.

I have seen so many people with Sears cars dated 1907 or earlier. My dad's (number 1204) use to be one of them. He called his a 1907 for many years which cannot possibly be correct based on what we now know of the Sears. But as we learn, our understanding of the Sears must also be updated to correspond which the facts.

Trying to date a Sears can be difficult. Sears & Roebuck did not keep records on which serial number were built in which years. They do not have production numbers for the years the Sears was built. We have little information to go on to accurately date a Sears.

This much we do know: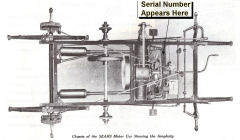 This chassis picture of the Sears shows the location of the serial number stamped into the frame cross member
Click on the picture to see the full size.
Serial numbers started at 1000. You will not find a production Sears with a serial number less than 1000, unless it is one of the prototypes, and they appeared to be marked "AK ##". "AK01" still exists and is owned by a Sears Registry member.
Each Sears was marked in at least two spots with a serial number:

Position #1: On the Frame. See the photo for the location to look for the serial number stamped into the frame. The Frame number is the official number of the car.
Position #2: On the brass plate attached to the body. The Number on the plate should match the frame number. The number stamped on the plate should match the number on the frame. If it does not, the plate has been changed. This is a common occurrence with the Sears.
That is why I am trying to collect both the frame and plate number, so that we can use all this data to help figure all this out.

So let's talk about Sears Serial numbers. In order to do this, we first need to look at some of the history, so let's start at the beginning.

We know that that Sears was designed by Alvaro S. Krotz. Based on an article by Don McCray in the Fall 1956 issue of The Antique Automobile publication of the AACA, it says that it wasn't until 1906 that Krotz was satisfied that he had designed a really successful car. Krotz claimed that in September of 1907, he had the first one completed and road tested, and that it was so good, he built about a dozen more of them that were used for further testing and to demonstrate to Sears that a reliable car could be built which anyone could afford.

The article goes on to say that "Sears had been convinced, and in the fall of 1908 signed their first contract with Krotz." So here we have an important piece of information. If a contract with Krotz was signed in the Fall of 1908, then how many Sears could have been built in 1908? I am thinking that it would be a small number.

Sears 1085 was owned by John H. Howard of Pennsylvania. It is now owned by Jim and Donna Burch. John H. Howard sold the car to James H. Roberts in 1929 for a price of $2.00. James H. Roberts is Donna's Grandfather. John H. Howard wrote one of the testimonials used in the Sears advertising brochure "What Sears Owners Say". He writes a letter dated June of 1910 that says " I received your motor car in August last;". So he recived car 1085 in August of 1909. I imagine it was ordered months before that.

If we look at what the current range of serial numbers are assigned to each year according to the Sears Registry, it looks as follows:
1908 - 1,000 -- 1,300 i.e. Approximately 300 cars built in 1908
1909 - 1,301 -- 2,300 i.e. Approximately 1000 cars built in 1909
1910 - 2,301 -- 3,200 i.e. Approximately 900 cars built in 1910
1911 - 3,201 -- 4,000 i.e. Approximately 800 cars built in 1911
1912 - 4,001 -- & up i.e. Approximately 500 cars built in 1912 and above
I believe this information came from an article printed in the AACA magazine in the summer of 1955. A copy of this article can be found on the Documentation and Ads page of the Sears Motorbuggy Website. Please NOTE: I do not believe that this information is accurate and I do not date cars using this serial number information. See my comments below.

CLICK HERE to go to the Summer 1955 AACA Article on the Sears

The information appears on pages 12 & 13 of the original article (pages 8 & 9 according to the Web Page).

So, could 300 cars have been assembled in 1908 for a car that had not yet been advertised? I think that is unlikely. Remember, the first advertisement by Sears on the Sears Motor Buggy (as it was first know) did not happen until 1909 when a "Special Motor Buggy Circular" was offered to customers receiving the spring general catalogue. I have never seen a copy of this first circular. The earliest ad I have seen was from the about the time of the spring 1909 Sears ''general'' catolog, number 118.

Sears themselves said in the booklete created for its 100th anneversary in 1986 that less than 600 cars were built in 1909. We know that car with serial number 1641 is a Model J. Cars with Model Numbers were 1910 Model Year or Newer, so that would mean that any car with a serial number of 1641 or newer could not be a 1909. If Sears is correct, then no serial number greater than 1600 could be a 1909.

The Sears was first referred to as the "Sears Automobile" (as opposed to the" Sears Motor Buggy") in the spring and summer 1910 general catalog.

I feel the highest production years were probably 1910 and 1911.

Another thing we know is that there were no Model letter designations for the Sears until into 1910 when the five models Appear for the first time. Sears referred to the models in the special catalog simply entitles "Automobiles" in 1910. But this is according to the Sears Documentation. So, when was the first time a different model was built? I feel that a Sears with a Model letter is likely to be a 1910 or newer Sears. This is backed up by a letter from Sears to a prospective buyer dated August of 1909 which does not mention any different model of Sears. If different Models were available, it would have been mentioned.

I also believe that Sears started making the multiple models after it's move from the Hercules Buggy Works in Evansville, IN to the Sears Plant at Harrison and Loomis in Chicago. The October 6th, 1909 issue of The Horseless Age (Volume 24, Number 14) says "Sears, Roebuck & Co., Chicago, Ill., are employing about fifty men in assembling their motor buggy." I believe it is around this time that production was moved from the Hercules Buggy Works in Evansville, IN to the Chicago Plant and this announcement was about the hiring of men to accomodate this.

Well hopefully we can determine what the earliest surviving sears is with either an original plate showing a model Letter, or a frame stamped with the model letter included. If you have a Sears with a model letter designation, is the letter stamped into your frame? Do you have the original plate? Is it recorded there?

Lets be honest. Many Sears automobiles were restored incorrectly over the years and those that remain which were restored as close to original as possible are few. I know what my dad's car looked like when he started and it was original down to the paint. So I know what car 1204 was like and the way it is today is what it looked like coming out of the factory with a few exceptions which I am well aware of.

How many cars were restored as a model J because of a picture they received? I know of a couple for sure. It is hard to restore a car properly when you do not have access to the information you need. Hopefully this website can help future generations with such problems if we do the proper research as we go and document sources of information.
My Opinion On Serial Numbers
Ok, so here is my opinion as it is of this writing. This is just my opinion based on looking at the avaiable information. As new information presents itself, I will update this. This is what I believe as of March 30th, 2013
1908 - 1,001 -- 1,020 i.e. Approximately 20 cars built in 1908 to get into the hands of people to get testimonials to print in future advertisements. Basically a small number of cars
1909 - 1,021 -- 1,600 i.e. Approximately 600 cars built in 1908 & 1909
1910 - 1,601 -- 2,800 i.e. Approximately 1200 cars built in 1910
1911 - 2,801 -- 4,000 i.e. Approximately 1200 cars built in 1911
1912 - 4,001 -- & up i.e. Approximately 500 cars built in 1912 and above
1912 - 12,000 -- & up i.e. Anything with a 12,000 series number would be a car built by the Lincoln Motor Works after Sears sold out to Lincoln. Not sure how many cars fall into this range. The research continues.
So the Following Questions Remain
Was any different model Sears built in 1909? I do not think so and I challenge everyone to produce evidence to the contrary. I believe if you have a Sears with a Model Letter, you have a 1910 or newer.
How many Sears cars were really built in 1908? Is the number 300 realistic? What is realistic? I do not believe any Sears were built in 1908. Prove me wrong.
How many were built in 1909? I am theorizing that not as many as people may currently think. I believe about 600 were built in 1909 based on the evidence.
Does your Sears have a letter stamped into the frame along with the serial number? If you have a Sears, please check the serial number stamped into the frame and see if a model letter is also stamped. I suppose it is possible that the Model Letters only appears on the brass plate. I now believe this was the case. Only the number was stamped on the frame. I would like to know for sure. I feel like I have seen a Sears with the letter also stamped into the frame, but from the evidence I have recieved to this point, it appears that only the number was stamped into the frame, with the Model Letter stamped into the data plate on the back of the body, along with the serial number matching the frame number.
So what do people think?
---
---
Visitor Comments
[1 - 11]
---

Name:
John Daly
Date:
2009-04-29 14:59:53

Comments[4]:

So let me here your comments on this.

---

Name:
Jack Dressel
Date:
2009-05-26 18:17:23

Comments[5]:

I have a Sears Model K. Serial Number on the frame is 2356, on the plate it has a model K stamped in with the serial Nomber. It was sold to me as a 1907, I cant be sure that is right. I bought it in Cuba Illinoise 2 weeks ago.

---

Name:
John M. Daly
Date:
2009-08-14 13:40:24

Comments[6]:

So Jacks Comment looks like there was a model K with the serial number not stamped on the frame, but stamped on the data plate. 2356 is just under the midway point in the serial number range. Any other comments?

---

Name:
Wayne Sutton
Date:
2009-08-20 18:41:38

Comments[7]:

Jack Congratulations on the Sears. I am documenting the history of each car and trying to keep track of all the owner who have had them. If you know the person that had your car previously or any of the historical details, I'd love to hear them. Wayne Sutton ( wasaw@tds.net )

---

Name:
stefan feller
Date:
2010-02-24 09:04:37

Comments[8]:

Regarding the frame number: I have a model P from 1912 with long chassis.All is blasted now and i found on the left side on the engine mounting frame a number "12673" The type of number is old,so i think the number is as old as the car. But what means this number? No other frame number.Regards Stefan

---

Name:
John M. Daly (Webmaster)
Date:
2010-07-20 08:06:12

Comments[9]:

Stefan show an interesting fact that I need to update this page to include. The 12000 series of numbers. I have two theories on this: 1) In 1912, they started numbering starting with 12 to indicate a year. 2)Anything with a 12000 series serial number is not a Sears, but rather a Lincoln which is who bought out Sears and continued building the Sears under the Lincoln name. Thoughts?

---

Name:
Dick
Date:
2011-03-02 07:28:52

Comments[10]:

I have been working on a sears that has the cross member with the sn missing and no plate. but I did find a sn on the flywheel of the engine. no. 1366. Is this the same no. as the frame no.?

---

Name:
John M. Daly - Webmaster
Date:
2011-09-23 13:53:29

Comments[11]:

Dick, Good question. I have seen another car (car 1223) which appears to not have a number on the frame. I did not think to look on the flywheel. I would think that this number would not be the serial number, but who knows. Maybe there was some guy stamping numbers who was not stamping them correctly. The 1366 number fits into the range of numbers as a 1909 car. The question is do the details of the car fit as a 1909?

---

Name:
Leon Cederlind
Date:
2012-12-14 18:26:37

Comments[12]:

My Sears Motor Buggy has 1099 and nothing else stamped into the frame. I guess this means it was the 99th car built. I wish I had read this before getting the title, because, based on what someone else told me, I had them put Model H on the title. Obviously that is wrong. Regarding the year, is it possible they actually manufactured 300 cars in 1908 in order to have an inventory of cars available before they started advertising them for sale?

---

Name:
Richard Stevens
Date:
2015-08-22 17:21:34

Comments[13]:

I am a newby to refurbish cars and today 08/22/2015 I saw a Sears Motor Car and look forward to properly identifing it and the year it was made. The owner says it is a 1908 Sears Motor Car.

---

Name:
Mark Fleming
Date:
2016-10-25 11:44:04

Comments[14]:

One method of determining the earliest cars and possibly those made before production moved is by the type of bump stop on the rear springs. They changed from a bracket and adjustable bolt to a pin and sleeve. What was the last number with a bolt type? Mark.

---
[1 - 11]
---
| | |
| --- | --- |
| How to contact me... | |
| John M. Daly | |
| Phone: | (815) 786-4824 |
| Email: | |
---
6150 Visitors

Since Monday, April 20, 2009

Thanks for visiting the Sears Motorbuggy web site. Please come back anytime
This page was last modified on: Saturday, March 30, 2013
Copyright © 2018 John M. Daly - All rights reserved.