Welcome to the Sears Motor Buggy Homepage
---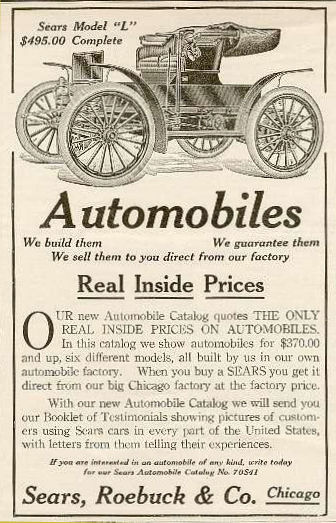 This is an advertisement for a Sears from the Scientific American magazine of 1910.
Click on the picture to see the full size.
If you are looking for information on the Sears Motor Buggy, built by Sear & Roebuck from late 1908 - 1912 (actally into 1913), then you have found the right place.
On this site you will find photos of Sears Automobiles, both original photos from the period and photos of current Sears owners cars. There are also advertisments showing the Sears, owners manuals and parts list. You can find technical data on the Sears as well as serial number information. If you are interested in the History behind Sears Roebuck and their first offering of an automobile, you can find that as well.
If your car is missing parts, you may find mechanical drawings made by other Sears owners for parts they made for thier cars.
Or maybe you would like striping diagrams for a Sears ? There are a couple of different sets included here.
If you are looking for copies of "The Searsheet Newsletters" put out by Hayden Shepley in the 1990's, then here are all that I have.
Maybe your looking for things to do with your Sears? Then check out the Events Page.
This site will be updated as I find more information.
If you are a Sears owner, you can help build this site by sending me photos of your car and scans of any documention you have. I am also planning to research changes in specific parts like the Brass Name Plates and Serial Numbers.
Let's build up a site that future Sears owners can use to help them with these rare and unusual automobiles.
Happy Motoring!
---
| | |
| --- | --- |
| How to contact me... | |
| John M. Daly | |
| Phone: | (815) 786-4824 |
| Email: | |
---
90071 Visitors

Since Monday, April 20, 2009

Thanks for visiting the Sears Motor Buggy web site. Please come back anytime
This page was last modified on: Tuesday, December 28, 2010
Copyright © 2018 John M. Daly - All rights reserved.